Sports and Games
At Ickford we are fortunate to have a purpose built sports hall and lots of outdoor space enabling us to provide opportunities for all children to take part in healthy activities and competitive sports.
Every child receives more than one and a half hours of PE each week with both the class teacher and a specialist PE teacher and there are opportunities to increase this participation through before and after school clubs and lunch time activities.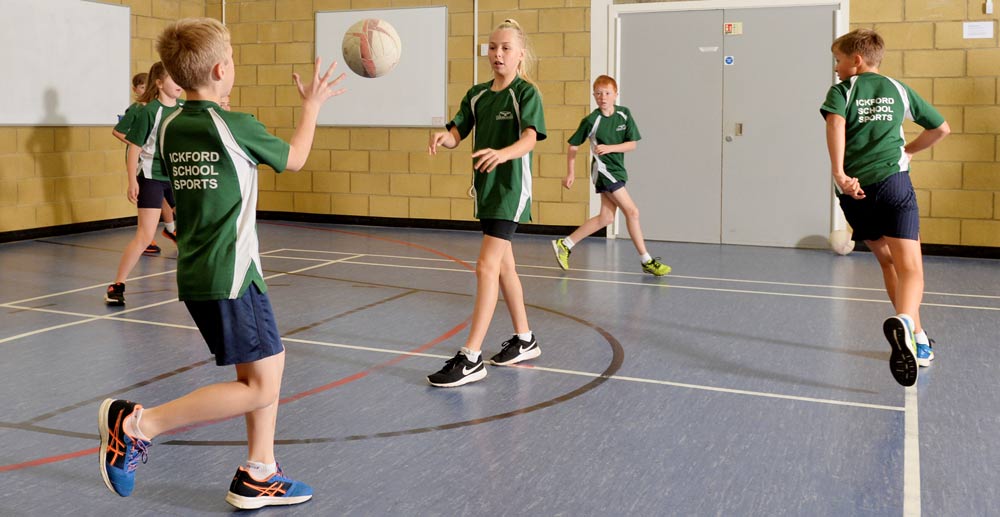 We have a thriving House system and children gain house points throughout the year for academic success, sporting success, effort and displaying the school values. We also have inter-House sports competitions and the year culminates in the presentation of two House Cups.
We actively seek to compete against other schools either through fixtures arranged between single schools or through our membership of the Waddesdon Family of Schools Sports Partnership and the Buckingham School Sports Partnership. In recent years we have had a great deal of success at area, regional and county level.
We also take part in inter-school Athletics Tournaments in Buckinghamshire and Oxfordshire. In spite of being a small school we have achieved great success in recent years particularly in Netball, Badminton, Cross Country and hope to continue to maintain high standards in the future.
Summery of Competitive Year 2018 - 2019
We took part in as many competitions as possible this academic year with a great deal of success and plenty of enjoyment for all. As we have come to expect, every child who represented the school at sport, did so with the appropriate amount of determination and competitive spirit whilst behaving impeccably at events and demonstrating great sportsmanship.
The list of results is available from the link below but, despite many first places we were also runners up on a number of occasions and, in comparison with the previous 6 years, we have not enjoyed as many tournament wins. It was disappointing to miss out on the netball Level 2 (Regional) title as it would have made four times in a row and given us a chance to once again defend our title at Level 3 (County). Nonetheless, a clean sweep in Badminton this year made up for this as did plenty of success in other areas.
Mr Ronane